Ship It Zero Shipping Decarbonization Report Card

This Report Card is designed to evaluate major retailers and shipping carriers on their commitment to rapid decarbonization and development of zero-emission fuels for maritime shipping.
The highest scoring retail company, IKEA, received 89/100 points. We commend IKEA's efforts and encourage other companies to follow its lead and commit to maritime shipping decarbonization. 
EXECUTIVE SUMMARY
Laggard Retail Brands and Carriers Must Respond to the Urgency of the Climate Crisis
Retailers
Very few retailers are accepting their responsibility to decarbonize maritime shipping. Many are not even quantifying Scope 3 emissions, which includes shipping. Other companies, like Amazon and Target, have yet to take enough meaningful action to operationalize their shipping decarbonization commitments. Emissions must peak by 2025 to keep in range of a 1.5° C global temperature rise. Companies must recognize the urgency of the climate crisis and commit to shipping decarbonization to avoid catastrophe.
Carriers
Most carriers are not taking the necessary action to decarbonize their shipping in response to the urgency of the climate crisis and the harmful impact on port communities. Most carriers have only committed to carbon neutrality by 2050, too long a timeframe to avoid catastrophe, and carriers are reliant on false solutions like liquefied natural gas (LNG) and scrubbers. While development of alternative low-emission fuels is increasing, far more is needed to replace new dirty ships on the global order book. 
Tell Home Depot, Lowe's, and Walmart to Abandon Dirty Ships. Sign Our Petition.
Add Your Name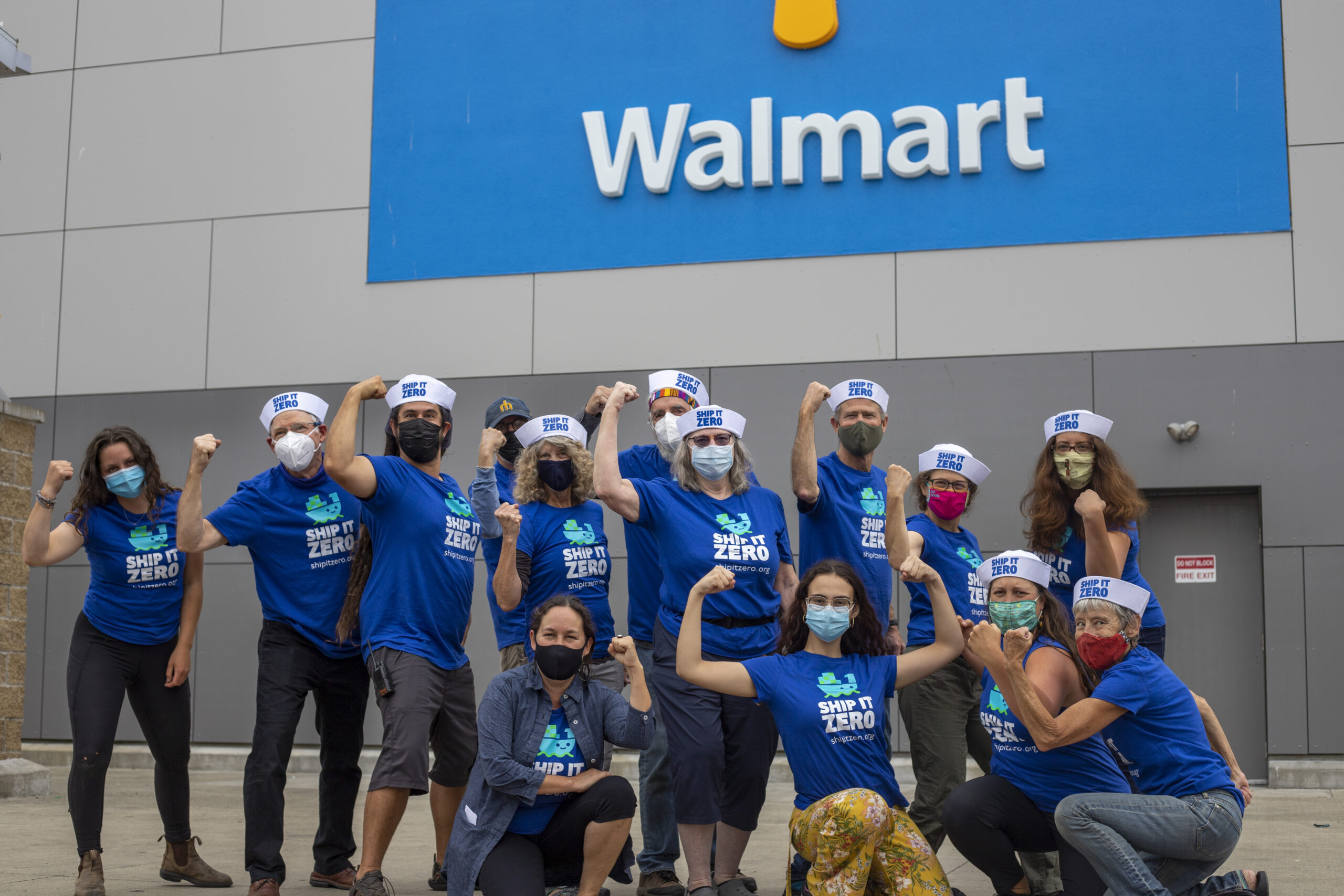 "As the world experiences the highest global temperatures in 120,000 years, the urgency for climate action has never been greater. Global emissions must peak by 2025 to avoid a climate catastrophe. Companies must take responsibility and eliminate maritime shipping emissions immediately to remain 1.5°C-aligned."
— Eric Leveridge, Ship It Zero Lead, Pacific Environment
METHODOLOGY
Companies' Statements and Actions Were Analyzed For This Report Card
Retailers
Researchers reviewed retailers' Corporate Social Governance Reports, Climate Disclosure Project reports and press releases to track decarbonization commitments and emissions disclosures. Retailers were given specific credit for transport- and shipping-specific commitments, disclosures and initiatives. Extra weight was given to companies joining industry groups entailing distinct shipping decarbonization commitments. Retailers were sent a proposed grade and were given the opportunity to respond. 
Carriers
Researchers reviewed carriers' Corporate Social Governance Reports and press releases to track decarbonization commitments and emissions disclosures. Carriers had more specific benchmarks to meet to receive credit because of their greater relative power to advance shipping decarbonization initiatives. Carriers were given extra credit for absolute emissions reductions and green fuel contracts, but points were deducted for emissions increases and reliance on false solutions like LNG and scrubbers. 
End Port Pollution
Taking immediate steps to reduce and eventually eliminate air pollutant emissions at major ports, which have a major public health impact on overwhelmingly BIPOC port communities.
汚れた船を捨てる
Taking immediate steps to reduce greenhouse gas emissions and move cargo on ships with readily available lower-emission fuels.
ゼロからのスタート
Developing a long-term strategy to fully decarbonize maritime shipping operations.
FINDINGS
Companies Must Address Climate Impact Of Maritime Shipping
Retailers
Many major retailers are not quantifying their complete Scope 3 emissions, defined as emissions the company is indirectly responsible for through its supply chain. Among those that are reporting Scope 3 emissions, most exclude maritime shipping from their reporting.
Carriers
Shipping carriers are not operating in a fashion that will allow global temperature rise to stay within 1.5° C. Most carriers are relying on extended timeframes and false solutions that will not contribute to solving the climate crisis.
3 out of 18
Retailers
Only 3 out of 18 retailers specifically reported on their maritime emissions.
1 out of 10
Carriers
Only 1 out of 10 carriers has a target date of 2040 for decarbonization.
All Carriers
Every carrier was reliant on at least one false solution: liquified natural gas or scrubber use.
REFERENCES
References & Report Cards